"They were superb! They totally prepared me for the process, telling me what to expect and that I knew exactly what I was getting into…"
---
Making the decision to look into cosmetic eyelid surgery is a moment our patient remembers like it was yesterday. She'd been celebrating her birthday with her family, and at dinner her son had snapped some pictures. One look at the puffy dark circles around her eyes and she knew it was time. Even while wearing makeup she looked like she had two black eyes. She could also see the sun damage to her skin.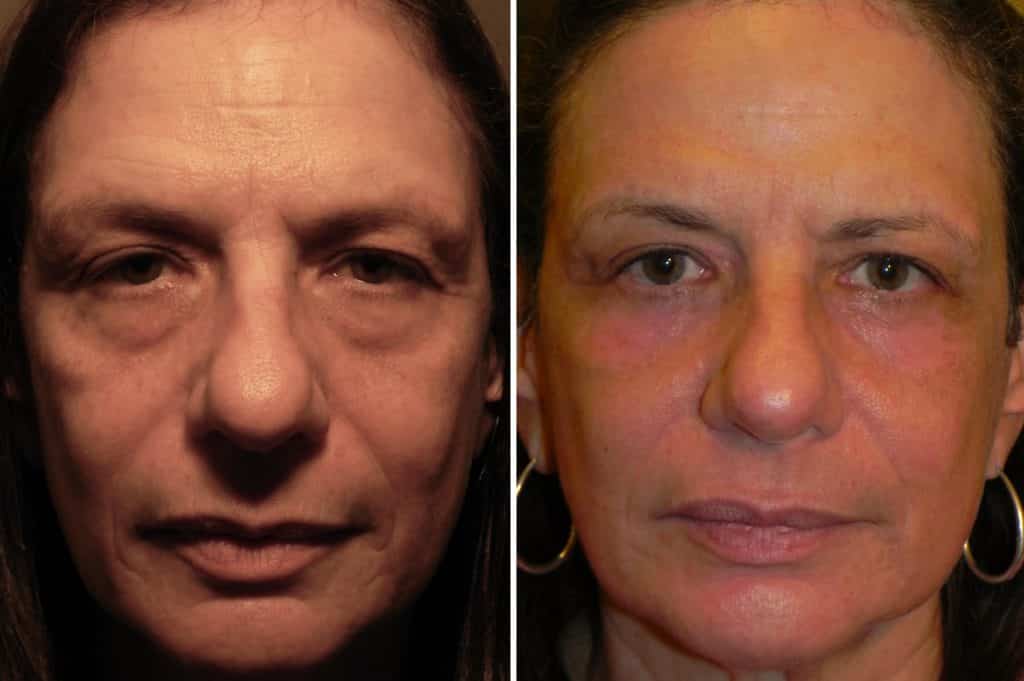 Though she did speak to friends who'd had eyelid cosmetic surgery using other physicians, she remembered having seen Dr. Scheiner on the Dr. Oz show several years earlier. She was familiar with his website and the RESET® procedure, plus there was the added advantage of knowing that she could stay with her son, who lived in Tampa!
In the end, much of her decision was driven by the fact that Dr. Scheiner is an ophthalmologist – she felt much more secure with his extensive knowledge of eye health, and that comfort level was enhanced at her first meeting. She found the staff to be extremely pleasant and helpful and Dr. Scheiner to be extremely personable. She appreciated that he was so thorough in his examinations and clear in his recommendations for what she needed, and immediately scheduled her lower eyelid procedure and full face laser resurfacing for three weeks later.
Speaking of the experience, patient says that Dr. Scheiner's staff could not have been more attentive or detail oriented. "They were superb. They totally prepared me for the process, telling me what to expect and that I knew exactly what I was getting into. Though the recovery period for the laser resurfacing was tedious and uncomfortable, I was prepared. Dr. Scheiner and his staff made sure that I had everything I needed and that I was mentally ready to take it on."
Though patient knows that it will take about six months for her to fully realize the impact of her procedure, she says that by four weeks afterwards she could really appreciate the improvement in her appearance. She is already hearing from family and friends – and even her general physician – that she looks great and that she looks at least ten years younger. She was so happy with the outcome that she followed up with a procedure on her nose and is now considering Botox® injections.
Asked about advice and whether she would recommend Dr. Scheiner to friends, she says she already has – in fact, her best friend already has an appointment for an eyelid consult. She recommends that each patient does their own research to make sure that they find a doctor with whom they feel comfortable. That goes for the staff too – she appreciated that Dr. Scheiner's staff was so kind, helpful and responsive to her questions, fears and needs.