"I'd absolutely recommend Dr. Scheiner to other people. Not only is he exceptionally good at what he does, but he's very nice and kind, and that's a rare combination in a surgeon."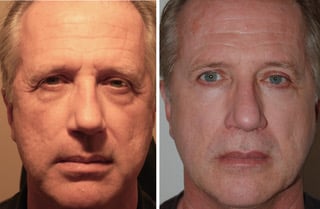 Before and After Michael's Procedures
Michael is a 60-year old male who recently traveled from Sacramento, California to have three procedures done by Dr. Scheiner. After going through a
total face resurfacing
, a lateral canthopexy and a
lower blepharoplasty
, he is very happy with his results and would highly recommend Dr. Scheiner! He says that
his wife thinks he looks like he did when he was 40
, that strangers think he's in his late 40s or early 50s, and most important of all, Dr. Scheiner
found and got rid of some early skin cancers
— a problem that Michael's dad had suffered with for years and which had eventually claimed his life.
---
Michael's Story
Making the Decision
I made the decision to go ahead with the procedures fairly soon after speaking with Dr. Scheiner via videoconference. I had watched my dad go through 11 separate skin cancer removals, having chunks of his face removed over and over, and that made a big and unfavorable impression. He had worked in the sun all day, every day, through the course of his career, and I had similar exposure. I'd competed in swimming and water polo in high school and college, spent summers working as a California beach lifeguard and in agricultural and construction jobs 'til I was 26, then coached my daughters' softball teams.
All those hours in the sun had led to ugly dark age spots and deep wrinkles on my face, and when you combine that with my fear of going through what my dad had, the decision was pretty easy. I mulled it over for a little while, then decided to go forward.
Before the Procedure
Prior to arriving at Dr. Scheiner's office there were a lot of health forms that needed to be filled out, as well as information about what to expect, information on post-operative care, and waivers to be signed. I appreciate that all of this is necessary, but it almost felt too thorough to a guy who gets impatient with paperwork. Still the office is a cut above any other I have visited, and the surgical center is directly across the street, which is really convenient.
The staff in the office was great, and so was the surgical center staff. Dr. Scheiner's Destination Patient Coordinator Toni is very professional: she was focused on answering every question and making sure that I was comfortable and had all of the information that I needed, and Dr. Scheiner did the same. He showed me videos on the procedure and photos of patients who'd had the same procedure so that I'd know what to expect.
They also made sure that I had a nurse with me for the first several hours following the surgery since I had traveled to Tampa by myself. That was incredibly helpful, as she showed me how to do all of the soaks and after-surgery procedures that needed to be done.

Recovery
The staff at the surgical center was really nice – pleasant and professional, and the anesthesiologist was very warm.
The period after the procedure wasn't too bad – I took pain killers on the first night so that I could sleep, and my face was wrapped up like a mummy, so when I took Uber to Dr. Scheiner's office for my follow-up appointments I made a point of sending texts to the drivers so they'd be prepared. Most of my post-surgery memories are that my face was itchy, and that I couldn't go out in the sun – it seriously hurt whenever I was in bright sunshine, even for a few minutes.
There were numerous appointments during the recovery period, and I really appreciated that because it gave me helpful feedback on how it was going. The staff also called me constantly to make sure that I was okay, and I found the same level of concern held true long after the procedure was over when I would call with questions. I almost always got a call back on the same day unless I called too late (the 3-hour time difference can be a challenge sometimes), and when I accidentally left some of my aftercare supplies in Dr. Scheiner's office he actually delivered them to me personally, which was really impressive.
I have to admit that for the first few days after the procedures I looked pretty scary, and I was actually glad that I didn't have to show my face to my family. For about a month afterwards I looked like I had a bad sunburn, but my skin was very soft – it still is! I'd say it took about two months after the procedure for me to look normal again, and that was worth it since I definitely look a lot younger, and much better.
Michael's Tips
In terms of what I'd recommend to others considering having the same procedures, I'd suggest that you plan on staying out of the public eye for a little while. It will be a few days before you feel like working – even from home, and then another couple of weeks before you feel like you look normal enough to go back to work or return to being seen in public.
I healed very quickly, and I attribute a lot of that to eating healthy and walking slowly on a treadmill to increase circulation, but when Dr. Scheiner says to rest you need to listen to him – when he said no hanging upside down (like you'd do if you were touching your toes to stretch) he wasn't kidding – it hurt, and he said it could cause damage.
Other than all of that, I wasn't a fan of the after-effect of having the trach tube put down my throat – it was probably the most annoying part of the whole thing beyond the itching.
I'd suggest that if you're going to have this type of procedure done, you set yourself up with some podcasts or movies you've been meaning to watch and plan on devoting a few days to your recovery and nothing else.
Oh, and the best advice I can give you on the post-surgical soaks is to cut a little hole in the washcloth so you'll be able to talk!