In addition to carefully considering your surgeon's qualifications, it's also a good idea to clearly understand the associated fees. Different procedures and levels of treatment require their own specific technologies. The best way to find out the cost of your specific procedure or treatment is to visit us for a consultation. Some procedures may be covered by insurance. If you have questions about what is covered by your private healthcare insurance, contact your plan provider.
If you don't want to pay for your procedure all at once, you can take advantage of one of our affordable financing options and you can apply for financing online. We're pleased to offer our patients the option of financing through CareCredit.
CareCredit For Cosmetic Procedures

It's something you've always wanted to do, but something else was always there to hold you back. Well, not anymore. We offer CareCredit®, a card designed specifically for your health and beauty needs. CareCredit can help you move forward with getting the procedure you've always wanted. With convenient monthly payment options, no up-front costs, no prepayment penalties and no annual fees, you can get your procedure sooner.
It's Like a Credit Card, but Better!
CareCredit works just like a credit card, but is exclusive for healthcare services. With low monthly payments every time you use it, you can use your card over and over for follow-up appointments or different procedures. This means you don't have to put your health and beauty needs on hold until you save up enough money. We give you the power to decide when it's the right time for you.
With CareCredit You Can:
Enjoy low minimum monthly payments.
Pay no up-front costs and no pre-payment penalties.
Get Started!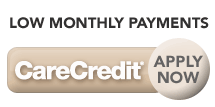 Apply online from the privacy of your own home. You will be taken to the online application where you will receive a decision within seconds! Once you're approved, you can use your CareCredit account immediately.