Experience the Future of Cosmetic Consultations
Welcome to the future of cosmetic consultations! We are excited to announce that Dr. Adam Scheiner's state-of-the-art oculoplastic and facial cosmetic surgery clinic is now available in the metaverse. This innovative, virtual experience allows you to step into our clinic, learn more about our services, and interact with our team – all from the comfort of your home.
Why visit the Dr. Scheiner's Clinic in the Metaverse?
Virtual Consultations. Schedule a personalized, virtual consultation with Dr. Scheiner and his team of experts. Discuss your concerns, ask questions, and receive professional advice on the best course of treatment for your unique needs.
Educational Resources. Browse our extensive library of videos, articles, and before-and-after galleries. Learn more about the procedures we offer, the latest advancements in cosmetic surgery, and what to expect during your treatment journey.
Virtual Support Community: Connect with other patients in a supportive, virtual environment. Share your experiences, ask questions, and gain valuable insights from others who have undergone similar procedures.
Exclusive Offers: Stay up-to-date with the latest promotions, events, and special offers available only to our metaverse clinic visitors.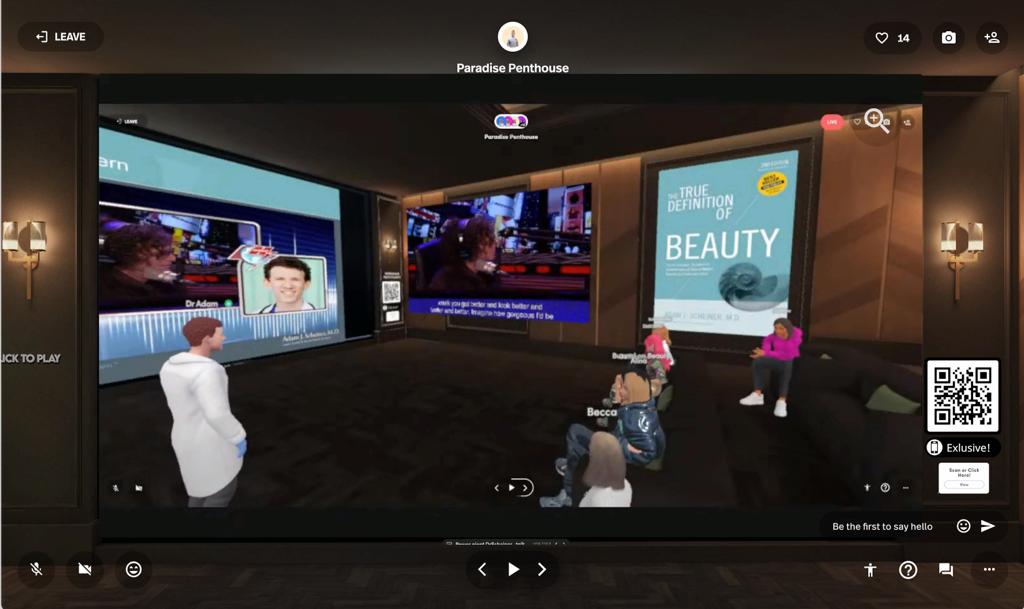 How to Access Dr. Scheiner's Metaverse Clinic:
Click on the link below to enter the metaverse clinic portal.
Sign up or log in to your Spatial account.
Follow the on-screen prompts to customize your virtual avatar.
Once you've arrived at our virtual clinic, explore the various rooms, and interact with our team members to learn more about the services we offer.
Get ready to embark on an immersive journey into the world of facial laser cosmetic surgery with Dr. Adam Scheiner. Click the link below to visit our metaverse clinic now.