The other day, I saw a patient who wanted my assistance in changing his appearance. Others often said he looked sleepy and tired even was he was feeling awake and energetic. He wanted to change his appearance to one that was more vibrant and engaging.
In our conversation, he mentioned that he had always had the appearance he was asking me to help him change. He was born this way, and he recalls people in his youth telling him to get more sleep and stay more alert because of the facial messages he was broadcasting.
I explained to him that in his case, I would be helping him with a facial transformation as opposed to a facial rejuvenation because I would be transforming his appearance to one he had never possessed before.
I often speak about helping people Restore, Reveal and ReclaimTM their natural beauty, but I haven't yet explored on this blog the difference between facial rejuvenation and facial transformation. So, I would like to do that today.
Facial Rejuvenation
Rejuvenation of a person's natural beauty involves restoring or bringing a person back to an appearance they enjoyed in the past. This is very rewarding for me as a physician because of the beneficial effect is has on the way my patients are perceived by others.
Examples of facial rejuvenation include when I restore a patient's skin to a point before it was damaged by years of environmental and sun damage, when I restore an eyelid and eyebrow region back to the way it was when a patient was younger, or when I use my Radiantlift® procedure to restore a patient's face back to a younger, more even completion and more beautiful and symmetric balance.
In the first example of facial rejuvenation below, I helped this patient restore her skin back to a healthier and more vibrant appearance. She loved how this procedure helped improve the lines above her lips that had bothered her for so many years and well as the general healthy glow of her face.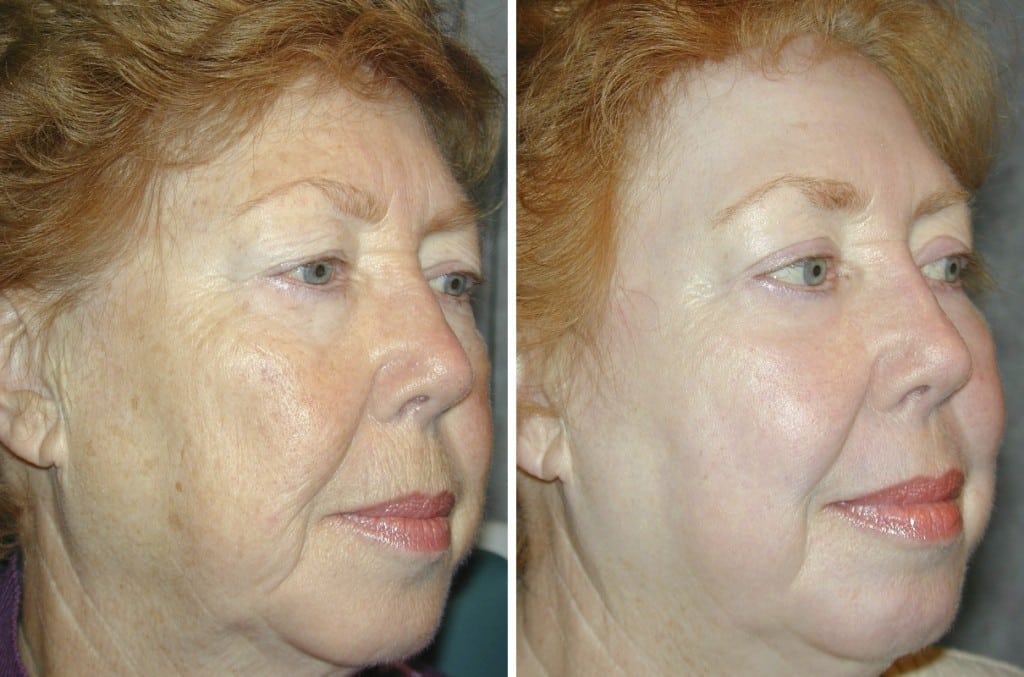 The next patient was another example of facial rejuvenation. After she received my Radiantlift® procedure, she reported that it brought back the natural volume of her youth as well as the vibrant radiance of her skin that she remembered when she was younger.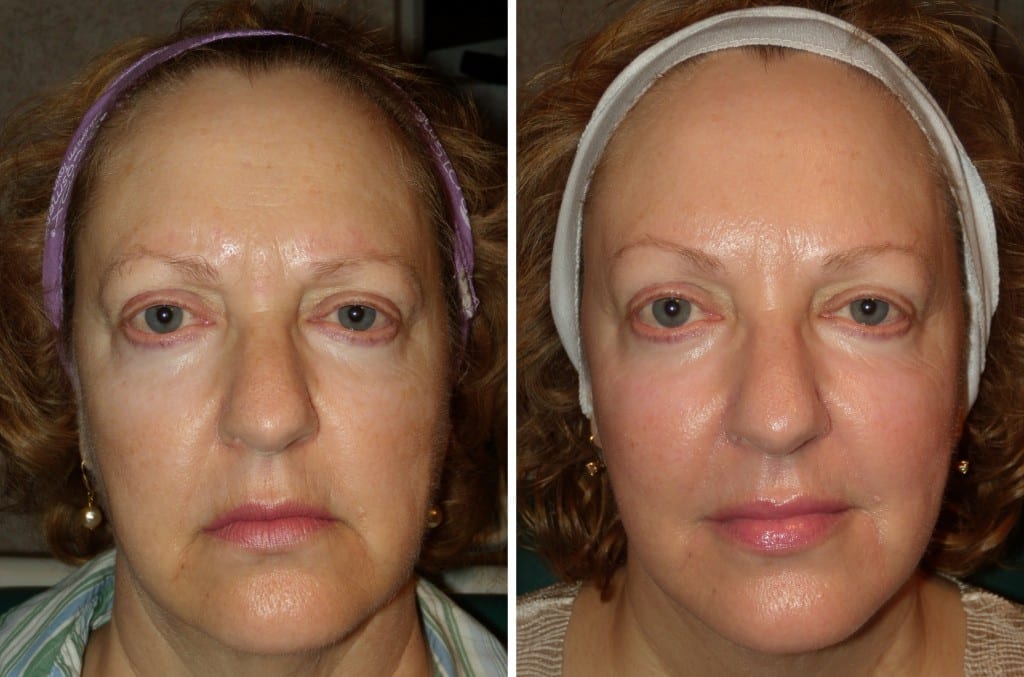 The next patient had had a nose job years before which went badly. She felt that she was stuck with this crooked nose for the rest of her life because surgery wasn't able to finesse a nose such as hers back to a normal appearance. When she asked if I could help her, I said that my 5 Minute Nose JobTM could do exactly this. She was thrilled with the results; now people were concentrating on her eyes and mouth instead of her nose when they looked at her, and she was able to communicate with others better as a result of this. I've found many cases of bad nose jobs where I've been able to finesse the nose back to a better state with this procedure. All of the applications of this 5 Minute Nose JobTM are instances of facial rejuvenation.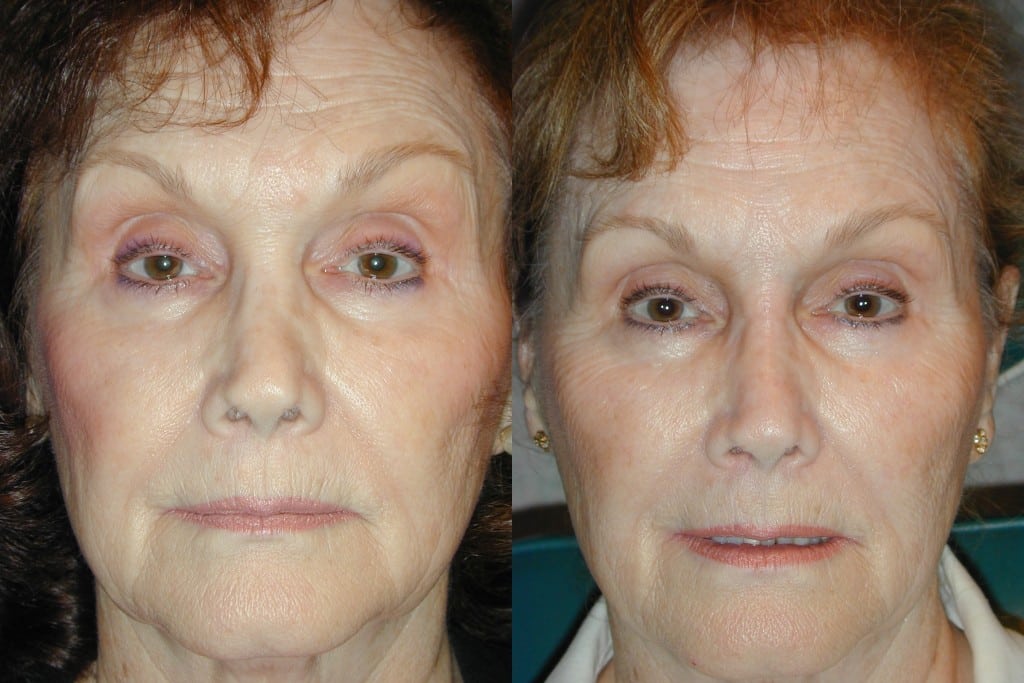 Finally, in this forth example of facial rejuvenation, I helped this patient restore and rejuvenate her eyelid region back to a more vibrant and youthful appearance, and as result, she reported that people started relating to her in a better way.
Facial Transformation
In other cases, I've helped patients reveal or uncover a beauty or appearance that has always been theirs, though they may not have known it.
It takes a special eye to see in a person's face that which is possible.
This can be very a powerful change for my patients in terms of the way they see themselves and the way the world sees them. Examples of facial transformation include certain eyelid and eyebrow elevation procedures, as well as an application of a procedure we've already discussed, my 5 Minute Nose JobTM.
The patient below had always had an uneven nose with a bump on it. I remember the day that I first helped her. It had been a busy day and she was the first patient in my schedule on that morning. I began the procedure by numbing her nose and then helped another patient with a small procedure in another room. After finishing with the 2nd patient, I returned to her and in approximately 5 minutes, I non-surgically reshaped her nose to a straighter and more balanced appearance. When I gave her a mirror and she looked at her reflection, tears started to stream down her face. All of us in the room felt our eyes well up, too. She had been bothered by the way her nose looked since she was a child. The process of straightening it for her fulfilled a lifelong desire, as we could all see from the emotional reaction to her transformation.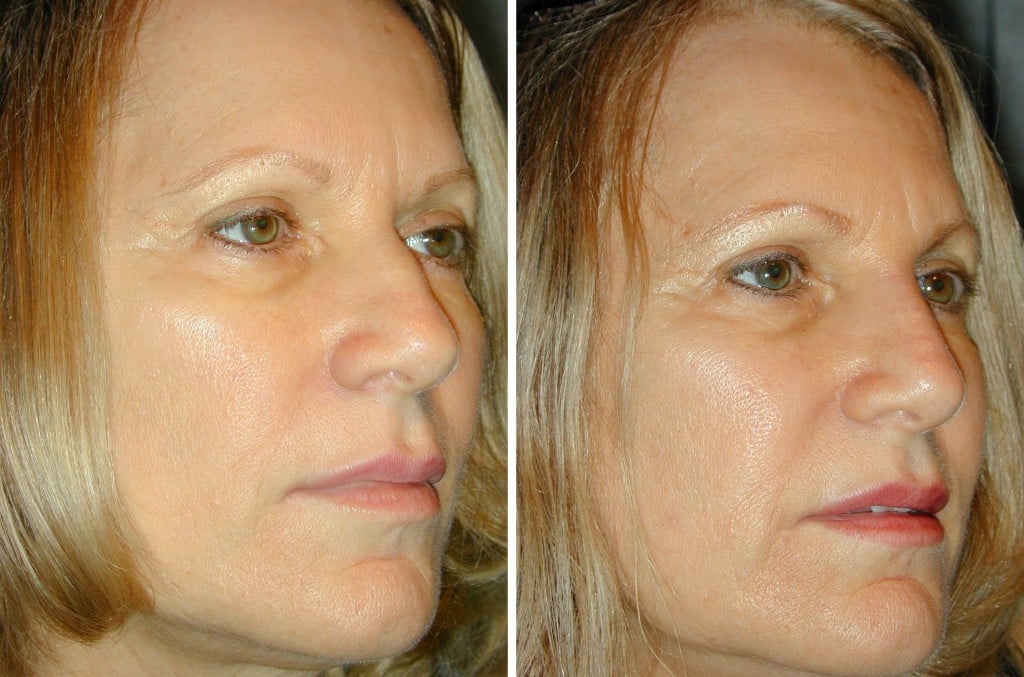 Transformations often elicit similar responses. The process of giving a patient an answer to their deepest desires is very powerful for the patient and very rewarding for me as a physician.
In this next case of facial transformation, I helped this woman improve the heaviness above her lids. She told me that others thought she was very serious all the time, and she wanted to change this. She had initially requested an eyelid surgery, but with a close clinical eye, I realized that her heaviness was actually due to her eyebrow falling into her eyelid space. I questioned her about this, and she told me that ever since she was a teenager, she had had difficulty applying eye shadow because there was no space above her eyelids to apply it. In certain individuals, the brows are naturally low. Unfortunately for her, this flat configuration of her brow was more masculine in appearance and made her look stern and serious even when she wasn't feeling that way inside.
I helped her with an endoscopic, minimal incision brow lift, and she was instantly struck by how open and approachable she now appeared. She reported that others began relating her better as a result of the procedure. This procedure was a case of facial transformation because it gave her an appearance beneficial to her which she never had had in the past.
It was and is such a privilege and honor to be able to help people with such sensitive issues, where the patient's facial appearance has often been bothering them for many years. This is the power of transformations.
Final Words
Whether a procedure is one of facial rejuvenation or facial transformation has to do more with the patient than the procedure. A consultation will help me determined which procedure your situation calls for.
As I've said before, whether I'm helping people rejuvenate or transform their appearance, I think optimizing our appearance is everyone's right and privilege.
After helping people restore/rejuvenate or reveal/transform their natural beauty, they can then reclaim the beauty that was always theirs to begin with.