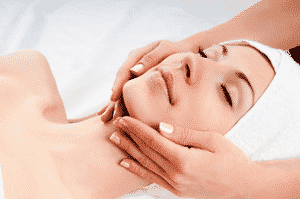 A Rejuvenation and Relaxation Facial at Dr. Scheiner's office is majestic. It's comprehensive, entailing a microdermabrasion, Jessner's Lite Peel, low light therapy and anti-aging and lymphatic massage. You walk in to an oasis with soothing music and pampering by our experienced medical aesthetician. Besides your skin being cleaned, hydrated and rejuvenated, you will also leave relaxed in a state of euphoria.
In the first step, your skin will be gently but deeply cleansed with a vibrating Clarisonic brush. After all impurities have been removed, our DiamondTome Crystal Free Microdermabrasion gently removes the dead outer layers of the skin and revitalizes skin that's been damaged from the sun, acne and scars. You can immediately see the impurities on the filter after this treatment.
Next, a special Jessner's Lite Peel is used to penetrate deeper to treat underlying skin conditions with a special blend of to lactic, glycolic and salicyclic acids. This process has minimal discomfort and mild peeling. Then, our medical aesthetician will apply advanced Medical Grade products that contain a mixture of growth factors, antioxidants, hyaluronic acid and proteins to rejuvenate and hydrate your skin.
The final step to our facial will leave you tingling. A lymphatic massage pulls all the toxins/congestion out of the face and stimulates all the areas of the body. Using pressure points, it will place you in a state of instant relaxation. Not only will your skin feel smooth and radiant; your body will be rejuvenated.
We finish this amazing experience with a neck and mid-shoulder massage to help you further relax and reduce stress in these areas. After you open your eyes and get up off the bed, we'll leave you with some special skincare secrets, after which we can help you book your next appointment to restore, reveal and reclaim your natural beauty.
We love helping our patients, and in this busy world where we often puts the needs of others before our own, our Rejuvenation and Relaxation Facial is a way to invest in yourself and put yourself first for a while.
To find out more or to book your Rejuvenation and Relaxation Facial, Contact Our Office